Honey Crusted Ribs and Oven Baked Fries with Fennel Aioli {Marx Foods Challenge}
Warning
: Parameter 2 to wp_hide_post_Public::query_posts_join() expected to be a reference, value given in
/home/yirese5/public_html/wp-includes/class-wp-hook.php
on line
287
I have to confess that I have shamefully managed to miss the entire grilling season this year because of all the chaotic personal events. Aside from a few backyard barbecues I was invited to I did not even grill one single hotdog this summer. To tame my inner craves for the smoky, savory, and juicy grilled meat dishes I have decided to work around this by using my oven more often. That's why I knew I wanted to create a delicious and comforting oven baked dish as soon as I was invited to participate Sweet to Savory Recipe Challenge hosted by Marx Foods. In this challenge I am required to use at least two of the four sweet ingredients provided to create a savory recipe.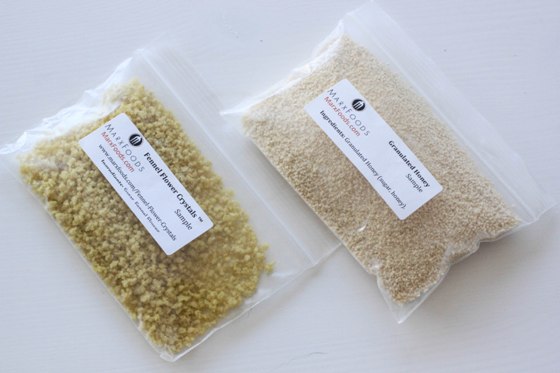 Two weeks after I signed up for the challenge, I received the cutest sample box containing vanilla beans, fennel flower crystals, coconut sugar and granulated honey in the mail. I decide to use granulated honey and fennel flower crystals to create my oven baked dish because I love the licorice flavor from the fennel and how it interacts with meat and I know the honey sugar will add the perfect finishing touch to my creation.
** UPDATE**
The polls are now open. Please follow this link to vote for Yi Reservation's Entry! You'll have until Oct 10th so don't wait for too long! I appreciate for your visit and your support to Yi Reservation 🙂
As I mentioned earlier, this is my second time doing a Marx Foods recipe contest. If you have been following me you might still remember the well-received Zen Roll dish I created from last year's challenge. I was able to incorporate all the ingredients and add some twist to a traditional Asian recipe. This time around, I wanted to stick to the flavor route but also kick up the competition a notch by putting focus on the texture. This particular rib dish I create is a good example of that good flavor and great texture.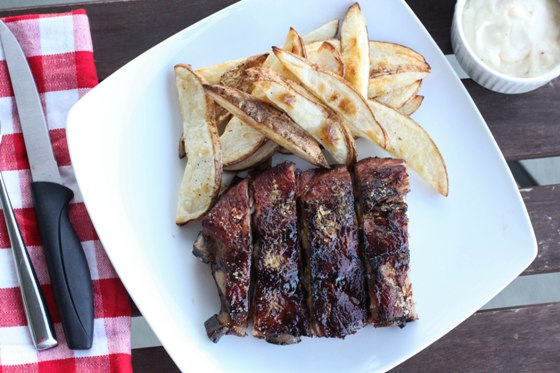 The honey and fennel flavored ribs are inspired by Cantonese barbecue ribs and they are really finger-licking delicious. And the texture – nothing beats to sinking your teeth into crispy layer of caramelized honey crust and falling-off-the-bone rib meat right underneath – heaven! Finally, the ribs are served with oven baked hand-cut fries. These baked fries are a bit of more effort than the traditionally fried frites but the result is really rewarding. I have also created a wonderful fennel flower aioli to go with this healthy oven baked fries.  Yum!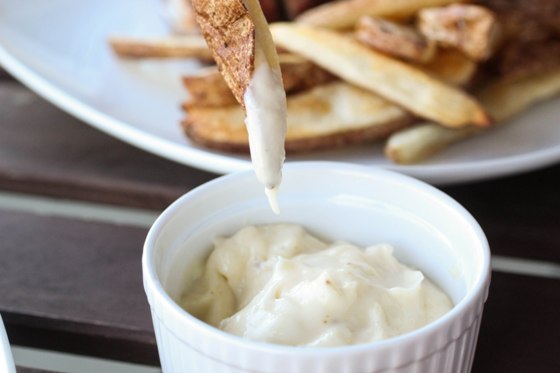 I'll stop right here as this is going to be a long recipe. If you like my recipe or my blog please take a minute to vote for Yi Reservation. The poll closes on Oct. 10th at 11:59pm PST!

Hope you all enjoy this dish!
Step by Step Instructions:
I use the granulated honey as a main ingredient.  For 2 lbs. of ribs I use about 3 tbsp. of the granulated honey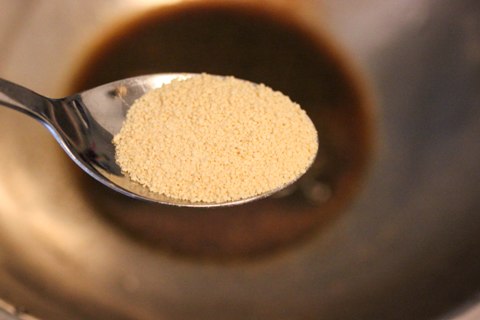 To make the rib marinade, combine all the marinade ingredients and stir to mix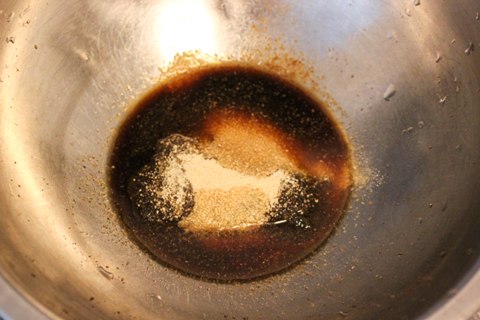 Divide the whole slab into two parts for easy handling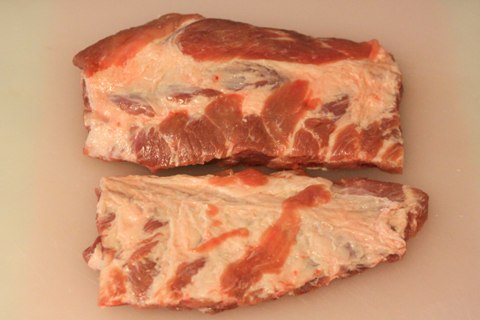 Generously coat the ribs with the marinade. Cover and chill in the fridge for at least 4 hours or overnight.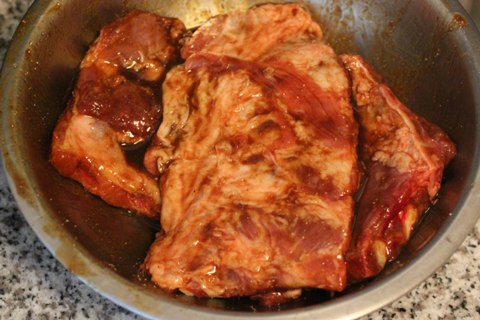 Pre-heat the oven at 350 F. Cover a large baking pan with aluminum foil. Lay the ribs in the baking pan. Save the marinade for later use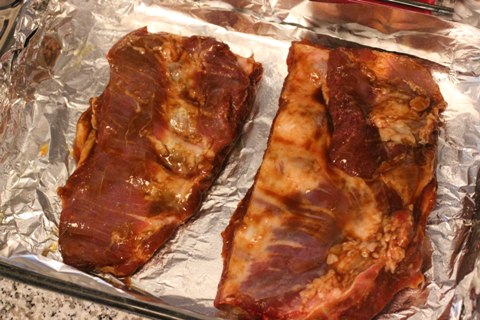 Cover the pan with aluminum foil. Place the pan in the oven and cook for 3 hours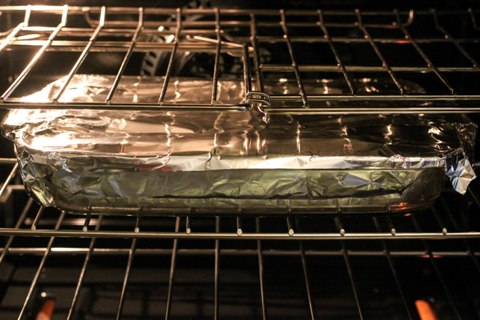 In the meantime, clean and cut the potatoes into large wedges. Soak in cold water for at least 1 hour to remove some of the potato starch. This is an important step to get that crispy texture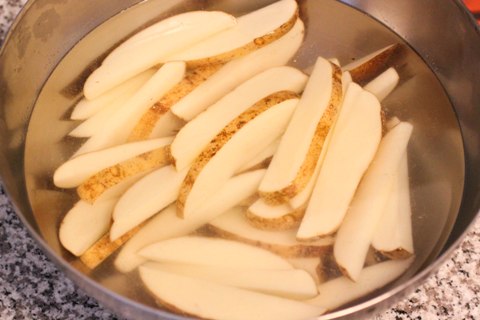 Make the fennel aioli by grinding 1.5 tbsp. of fennel crystal in a mortar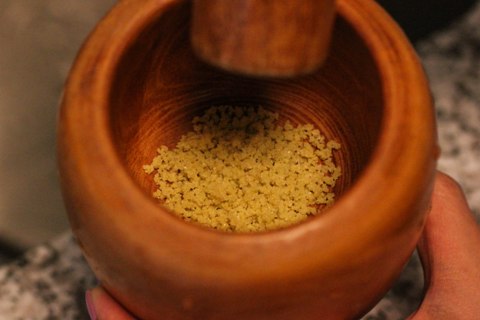 Combine grated garlic, fennel crystal powder, and mayo in a bowl. Mix to incorporate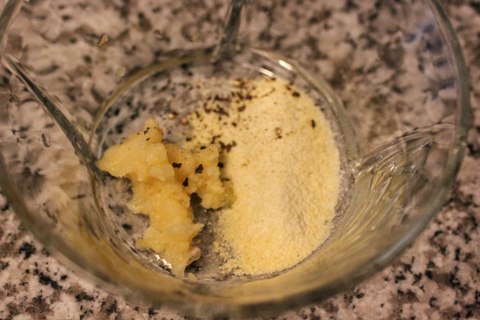 The creamy flavorful aioli can be made in advance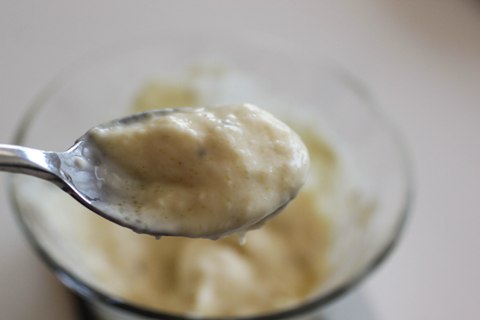 After baking the ribs for about 3 hours the ribs should be very tender. Remove the aluminum cover. Brush the leftover rib marinade on the rib surface. Bake at 420 F for 10 minutes. Flip the ribs and brush the sauce and bake for another 10 minutes.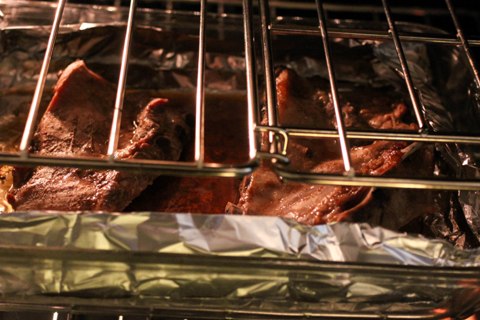 Repeat the last step one more time. The ribs should be brown with burnt ends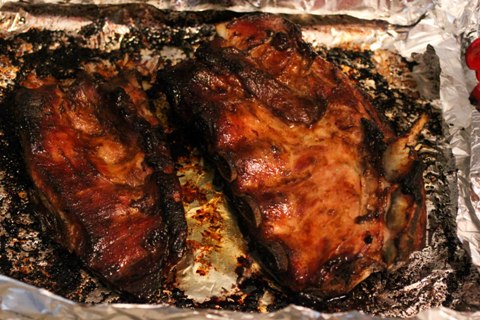 Generously coat a layer of granulated honey on one side of the ribs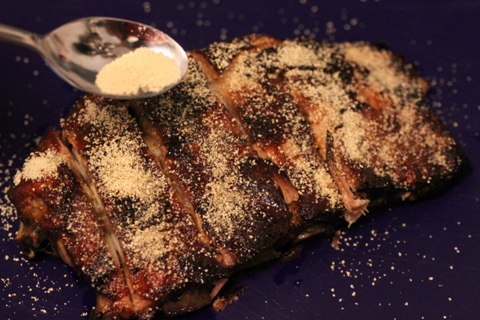 Use a kitchen torch to caramelize surface and create a cream-brulee-like crust. Make sure you move your torch quickly so you don't burn the meat. If you don't have a torch you can also broil the ribs for about 5 minutes to create the same effect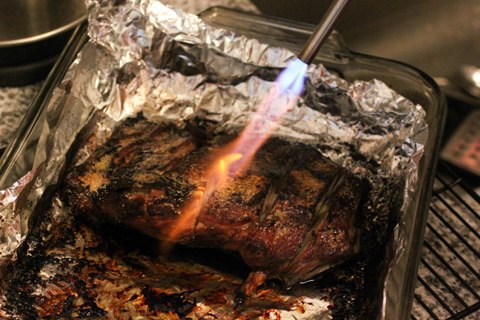 While working on the ribs, coat the potato wedges with cooking oil (or the rendered fat from the ribs) and bake at 475 F for 10 – 12 minutes on each side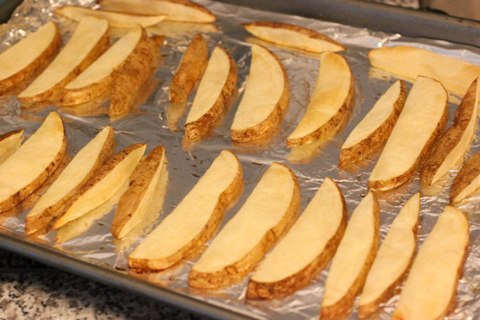 Feel free to lightly season the baked fries with salt and pepper. Serve the fries with the aioli and the ribs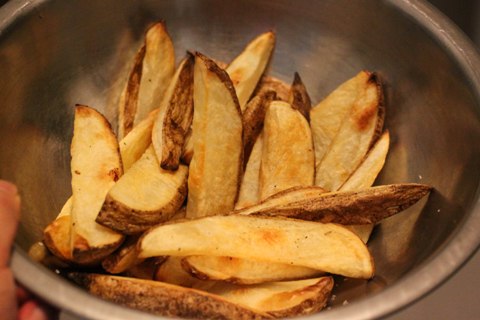 Hope you enjoy this savory dish created using sweet ingredients!
If you like my recipe or my blog please take a minute to vote for Yi Reservation. The poll closes on Oct. 10th at 11:59pm PST!
Honey Crusted Ribs with Oven Baked Fries and Fennel Aioli
I created this honey crusted ribs and baked fries with fennel aioli dish for a recipe challenge where I have to cook a savory dish with sweet ingredients. The step-by-step picture illustration is available on www.yireservation.com.
Ingredients
Full rack of pork ribs, 2 – 3 lbs.
1lb potatoes

For Rib Marinade

4 tbsp. granulated honey
2 tbsp fennel flower crystals
3 tbsp. soy sauce
2 tbsp. hoisin sauce
3 tbsp. cooking wine
1 tbsp. 5-spice powder
2 tsp. lemon juice
2 tsp. salt

For Fennel Aioli

1.5 tbsp. fennel crystal
2 clove garlic
3 tbsp. mayo
Salt and pepper to taste
Instructions
I use the granulated honey as a main ingredient. For 2 lbs. of ribs I use about 3 tbsp. of the granulated honey
To make the rib marinade, combine all the marinade ingredients and stir to mix
Divide the whole slab into two parts for easy handling
Generously coat the ribs with the marinade. Cover and chill in the fridge for at least 4 hours or overnight.
Pre-heat the oven at 350 F. Cover a large baking pan with aluminum foil. Lay the ribs in the baking pan. Save the marinade for later use
Cover the pan with aluminum foil. Place the pan in the oven and cook for 3 hours
In the meantime, clean and cut the potatoes into large wedges. Soak in cold water for at least 1 hour to remove some of the potato starch. This is an important step to get that crispy texture
Make the fennel aioli by grinding 1.5 tbsp. of fennel crystal in a mortar
Combine grated garlic, fennel crystal powder, and mayo in a bowl. Mix to incorporate
The creamy flavorful aioli can be made in advance
After baking the ribs for about 3 hours the ribs should be very tender. Remove the aluminum cover. Brush the leftover rib marinade on the rib surface. Bake at 420 F for 10 minutes. Flip the ribs and brush the sauce and bake for another 10 minutes.
Repeat the last step one more time. The ribs should be brown with burnt ends
Generously coat a layer of granulated honey on one side of the ribs
Use a kitchen torch to caramelize surface and create a cream-brulee-like crust. Make sure you move your torch quickly so you don't burn the meat. If you don't have a torch you can also broil the ribs for about 5 minutes to create the same effect
While working on the ribs, coat the potato wedges with cooking oil (or the rendered fat from the ribs) and bake at 475 F for 10 - 12 minutes on each side
Feel free to lightly season the baked fries with salt and pepper. Serve the fries with the aioli and the ribs
https://yireservation.com/recipes/honey-crusted-ribs-and-oven-baked-fries-with-fennel-aioli/
Copyright © Yi Reservation 2010 - 2013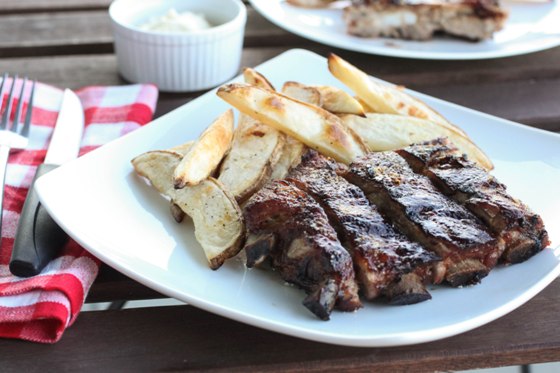 Warning
: Use of undefined constant rand - assumed 'rand' (this will throw an Error in a future version of PHP) in
/home/yirese5/public_html/wp-content/themes/yireservation/single.php
on line
72
Warning
: Parameter 2 to wp_hide_post_Public::query_posts_join() expected to be a reference, value given in
/home/yirese5/public_html/wp-includes/class-wp-hook.php
on line
287