Hong Kong Style Pineapple Bun Recipe 港式菠蘿包
Warning
: Parameter 2 to wp_hide_post_Public::query_posts_join() expected to be a reference, value given in
/home/yirese5/public_html/wp-includes/class-wp-hook.php
on line
287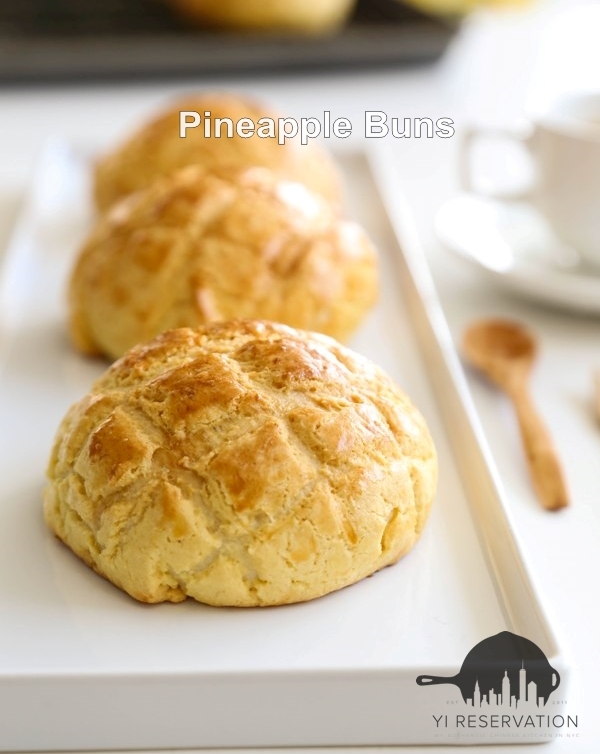 Pineapple Bun 菠蘿包, known as bor lor bao in Cantonese, or bo luo bao in Mandarin, is a very popular Cantonese/Hong Kong style pastry served as a dim sum snack, breakfast bun, or dessert pastry and it's sold in Chinese bakeries all around the world.
If you've never had a pineapple bun before, the first thing you'd notice is that signature golden, crumbly crust which resembles the pattern of pineapple skin. Underneath that crunchy and sweet crust is a fluffy and soft bun that sometimes comes with a custard or red bean stuffing.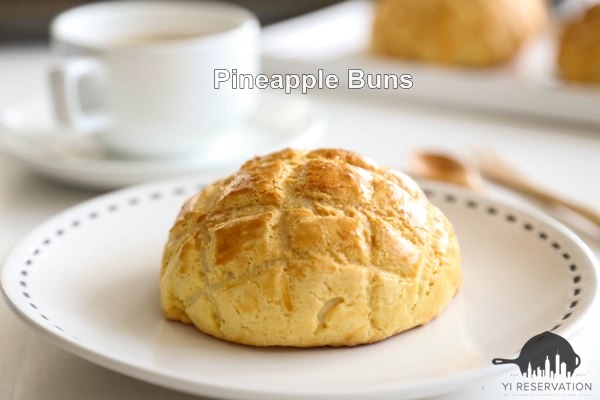 You might be tempted to draw connection between this and a Mexican bread called concha but I can assure you that they taste very different as the pineapple crust is less sweet and lighter in texture and the bun is softer and less dense than that of concha.
Oh yes, there is no actual pineapple in the bun!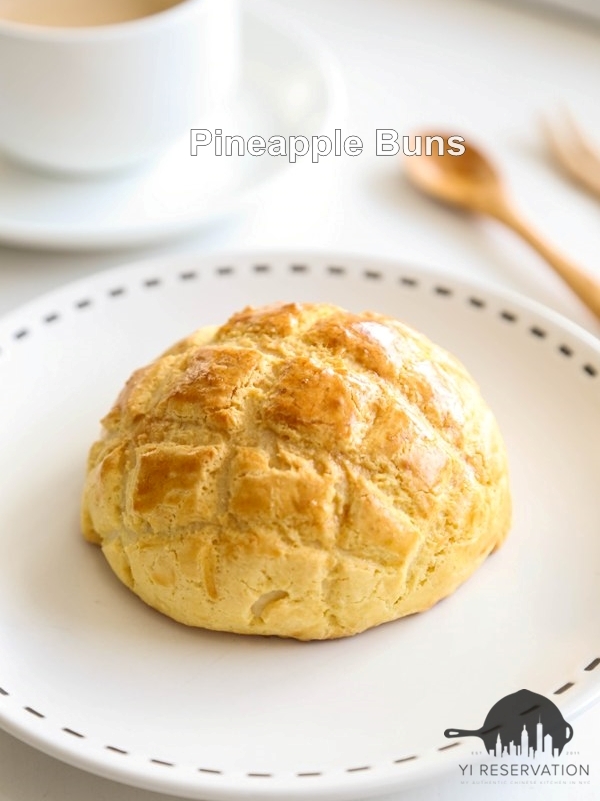 I first got addicted to pineapple buns while on a trip to Hong Kong, where my wife, a Hong Kong native and self-proclaimed pineapple bun expert who grew up waking up the smell of pineapple buns from nearby bakery, took me to a local shot to show me how a freshly baked pineapple bun tasted like.
As I sank my teeth into that golden-crispy-shelled bun, my eyes just immediately lit up and I had to take a few more bites to confirm that I was eating a Chinese pastry. The crust was crispy yet light and the bun was fluffy with the right consistency and sweetness. I was sold on the spot!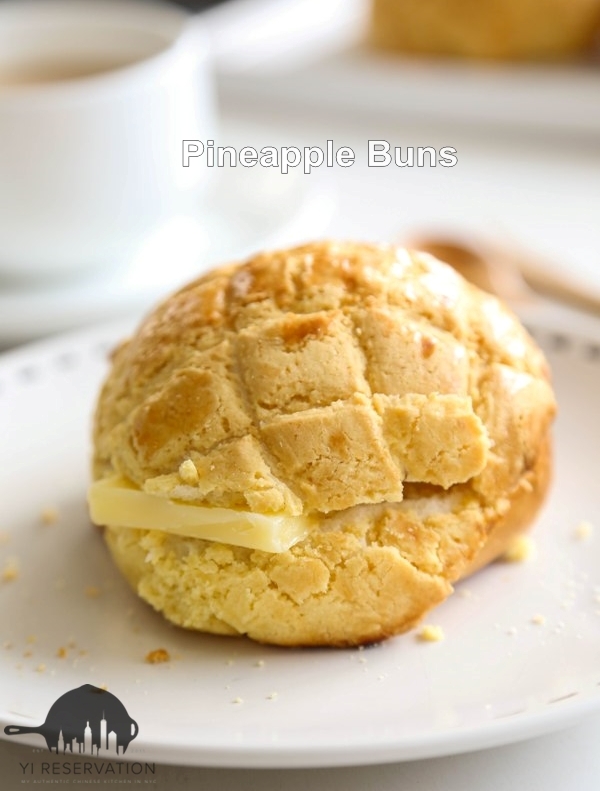 As for my wife, she enjoyed her pineapple bun served as a bor lor yau, which had a thick slab of butter sandwiched in the middle of a freshly made pineapple bun. A bite into it, I felt an explosion of semi-melted butter mixed with soft bread and crunchy shell. It was definitely something to die for!
To recreate that epic experience in Hong Kong, I started testing my own pineapple bun recipe. After going through a handful of recipes from all over the place, I finally came up this version which passed my wife's taste test! I even got a thumb-up from her serving up freshly baked pineapple bun bright and early 🙂
Her blessing also means I can official share this tasty homemade pineapple bun recipe with step-by-step instructions with aspirational readers like you!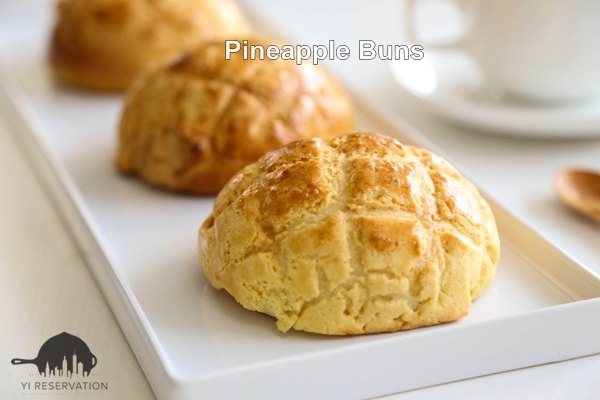 Giveaway Contest Reminder
Before I let you jump into this rather long recipe, I'd like to remind you that you have until this Monday night to enter to win this 5.5-Qt Enamel Cast Iron Dutch Oven that I am giving away. If you like to cook and bake, you'd not want to miss the opportunity to grab this handy Dutchen oven!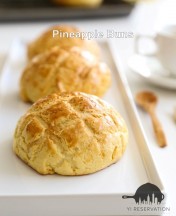 Hong Kong Pineapple Bun Recipe 港式菠蘿包
Yield: 8-10 Buns
Prep Time: 180
Cook Time: 20
Total Time: 200
Make this amazing Hong Kong Pineapple Bun Recipe following this step-by-step recipe at yireservation.com.
Ingredients:
Milk Bread Dough
310g / 2.4c bread flour
95g / .35c chilled water roux (TangZhong) from below recipe
1 large egg, about 60g
5g/ 1.75tsp active yeast + 30ml / 1.7 tbsp. warm milk or water
70ml/0.3c milk/heavy cream
50g / 0.4c sugar
3g salt
30g / 2tbsp butter, softened in room temperature
1tsp vanilla extract
Water Roux (TangZhong) for bread dough
20g / 2.8tbsp flour
80ml/0.33c milk
Pineapple Crust
110g Cake flour
1 egg yolk
50g butter, soften in room temperature
45g sugar
2g salt
10g baker's dry milk (optional)
10g milk
1/4tsp Baking powder
1/3tsp ammonium bicarbonate*
Egg Wash
1 egg yolk and ½ egg white, beaten
Directions:
To make the bread dough and water roux, please follow my Soft Asian Milk Bread recipe. The water roux can be made ahead of the time and left in the fridge. The dough takes roughly 1-1.5 hours to prepare and finish the first rise (up to step 7).
Once the dough is ready, divide the dough into 10 portions for regular size buns or 8 portions for extra-large buns.
Use your palm and roll each portion of the dough into a ball. Place the dough balls on lined baking sheet. Let the dough sit for 15 minutes.
In the meantime, divide the chilled pineapple crust dough (see instructions below) into 8 or 10 pieces.
Roll each piece of crust dough into a ball.
Place a crust dough ball in between two pieces of plastic wrap. Flatten the dough with your palm and then roll out into a 4"-5" wrapper.
Remove the top layer of plastic wrap and place the crust dough wrapper right on top of a bread dough ball to cover most of the bread dough. Repeat until every bread dough is covered.
(optional step) To create a more distinctive checkerboard pineapple pattern, lightly run a knife over the pineapple crust without cutting through.
Pre-heat the over to 380F/193C. Let the dough sit for another 30-45minutes or double in size. Brush the crust and any exposing bread dough with egg wash.
Bake at 380F for 8 minutes. Turn down the heat to 350F/176C and continue to bake for another 10 minutes. Cool on a cooling rack and serve while the crust is still crunchy!
Pineapple Crust Dough Instructions
In a mixing bowl, mix the egg yolk, sugar, and butter with a hand mixer or whisk until fluffy and smooth.
Slowly add milk while mixing with a hand mixer/whisk.
Continue to mix until milk is fully incorporated and the mixture is fluffy.
Combine the cake flour, dry milk, salt, baking powder, and ammonia bicarbonate in a separate bowl. Sift all the dry ingredients and transfer to wet mixture.
Mix the dry ingredients with the wet mixture until fully incorporated. The final mixture is of cookie dough consistency.
Transfer the pineapple crust dough onto a plastic wrap. Wrap the dough and shape it into a log. Chill in a fridge for at least 1 hour and only take out when ready to use. You can make this pineapple dough 1 day in advance.
*Ammonium bicarbonate (臭粉) is a leavening agent used commercial food preparation. You can sometimes find it in baking isle at large Chinese supermarkets. If you can't find it, you can substitute with the same amount of baking powder.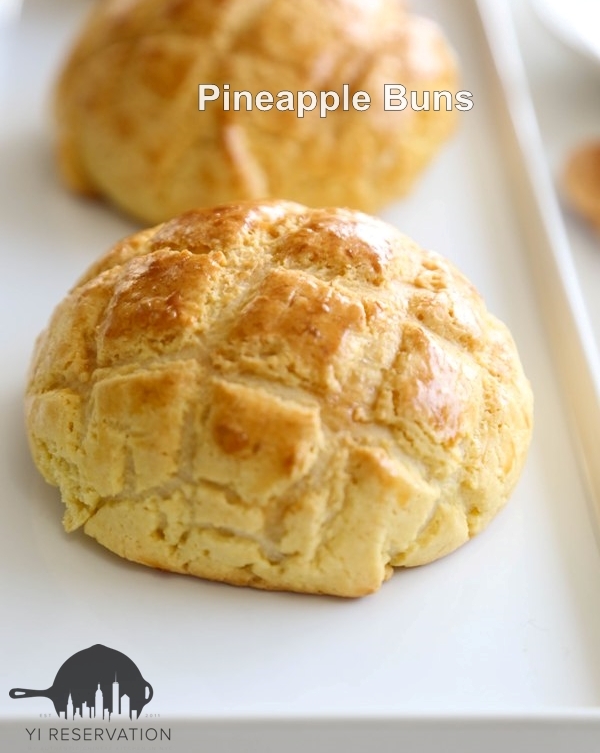 Warning
: Use of undefined constant rand - assumed 'rand' (this will throw an Error in a future version of PHP) in
/home/yirese5/public_html/wp-content/themes/yireservation/single.php
on line
72
Warning
: Parameter 2 to wp_hide_post_Public::query_posts_join() expected to be a reference, value given in
/home/yirese5/public_html/wp-includes/class-wp-hook.php
on line
287