Healthy Shrimp Stuffed Chicken Meatball Soup
Warning
: Parameter 2 to wp_hide_post_Public::query_posts_join() expected to be a reference, value given in
/home/yirese5/public_html/wp-includes/class-wp-hook.php
on line
287
Correct me if I am wrong, but it seems that every culinary culture has its own variation of meatballs. There are probably thousands of ways to make meatballs with different flavors, textures, and shapes. Yet they all share one common characteristic – delicious!
Seeing all these fancy meatball specialists showing up across the city, I have been meaning to write a meatball post ever since the meatball obsessions started in NYC a few years ago. But of course I am not going to write another recipe about the traditional meatball covered in that all-too-familiar red sauce. After all, I am here to bridge the culinary cultures and provide original Asian recipes that are unique, creative, but always delicious!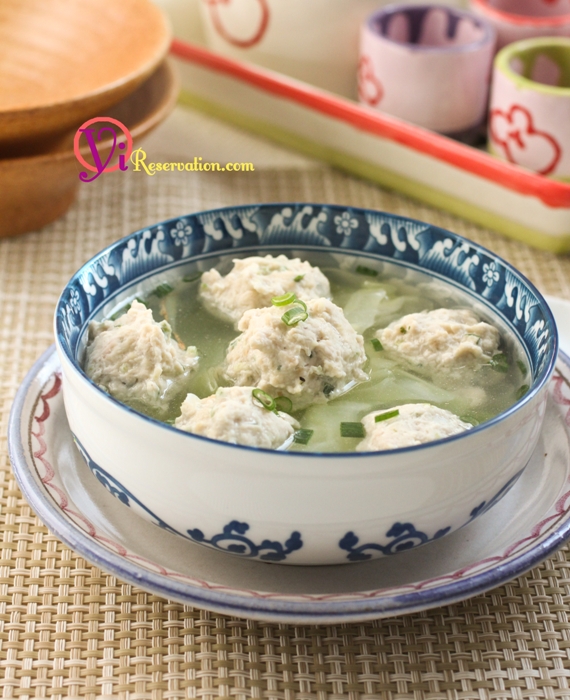 So for my very first meatball recipe, I want to make it special…so special that I can trace my association to this dish back to my childhood. I was a picky eater when I was little. Worse, for some unknown reason, I hated meat (no I wasn't a vegetarian). So to trick me into eating meat, my grandfather made these special chicken meatballs for me. He rolled them so nicely that I could resist but to try them. That was basically my short but memorable meatless diet. What's more memorable are those meatballs.
Now I'll share my memory of those meatballs with you. I modified my grandfather's original recipe to make this light and healthy meatball soup dish. In the recipes I am sharing today, I have stuffed meatballs with shrimp. You might find putting the shrimp in the balls not as easy as it sounds, but with some practice you will become an expert.
*****************************
Step by Step Instruction:
Marinade the shrimp with salt and pepper. If using medium size shrimp, cut the each shrimp to halves. Finely chop 3 slices of ginger, scallion, and cilantro. Set aside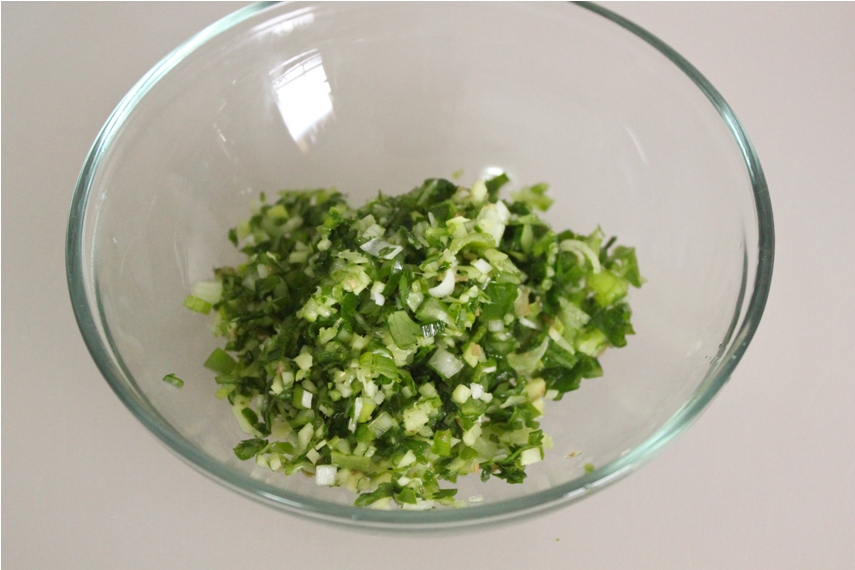 In a large mixing bowl, combine the ground chicken with chopped ginger, chopped scallions, chopped cilantro, egg, and corn starch. Mix using a spoon to incorporate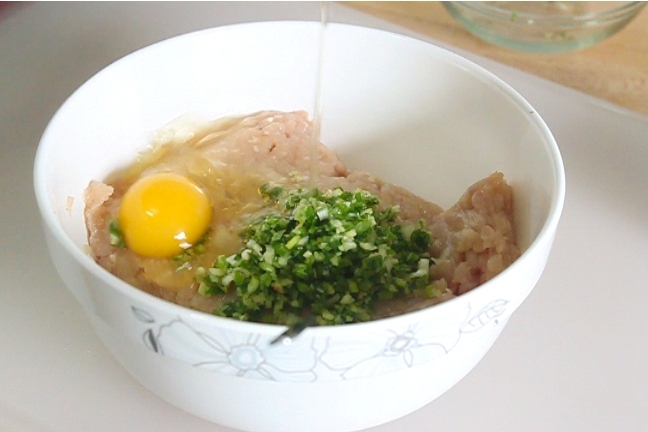 Add 1 -2 tsp of water to the meat mix, then stir with a spoon in one direction until the water is absorbed. Repeat this process for 3-4 times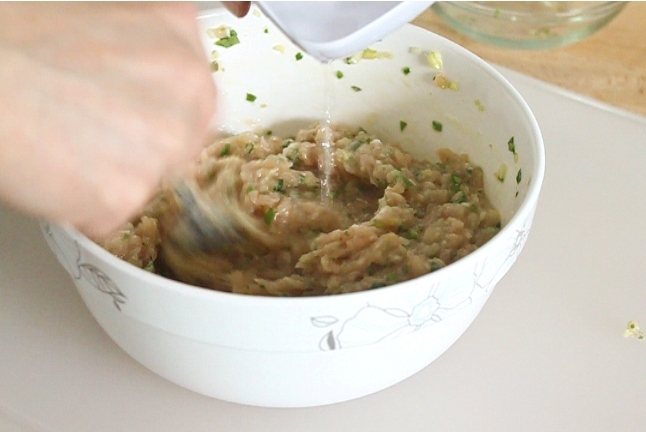 Or until the meat mixture becomes fluffy and paste-like. Flavor the mixture with salt, white pepper powder, and sesame oil. Stir to mix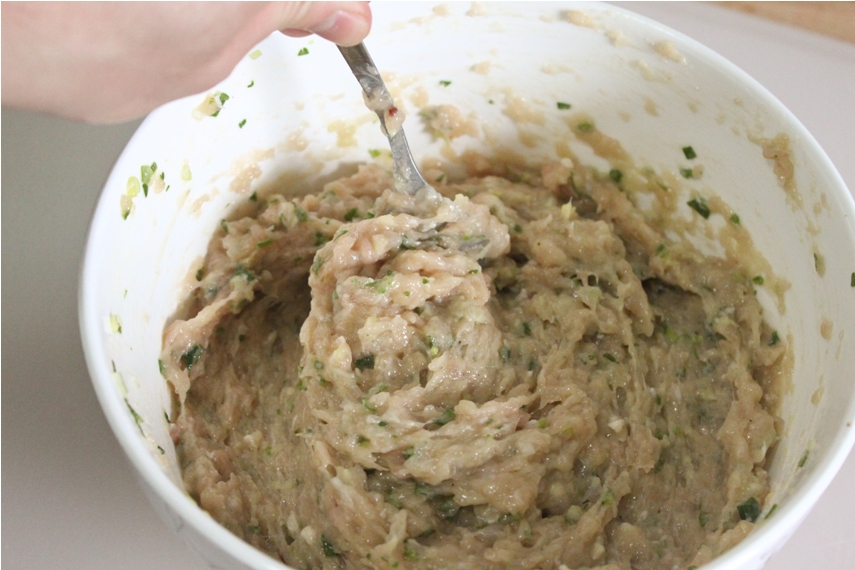 Before rolling out the meatball, start to boil a pot of water to pre-cook the meatballs.Spoon 1 tbsp of meat to form a ball. Poke a hole in the ball and stuff a piece of shrimp in. Seal the shrimp with additional meat. Gently drop the meatball to the boiling water.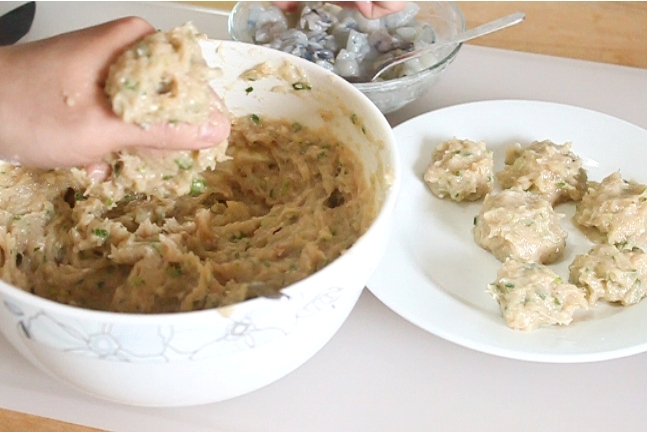 Cook for about 2 minute, or until they float. Take out the meatball and set aside.
I normally cook in batches of 6 – 8 each time. Save the water used to boil the meatballs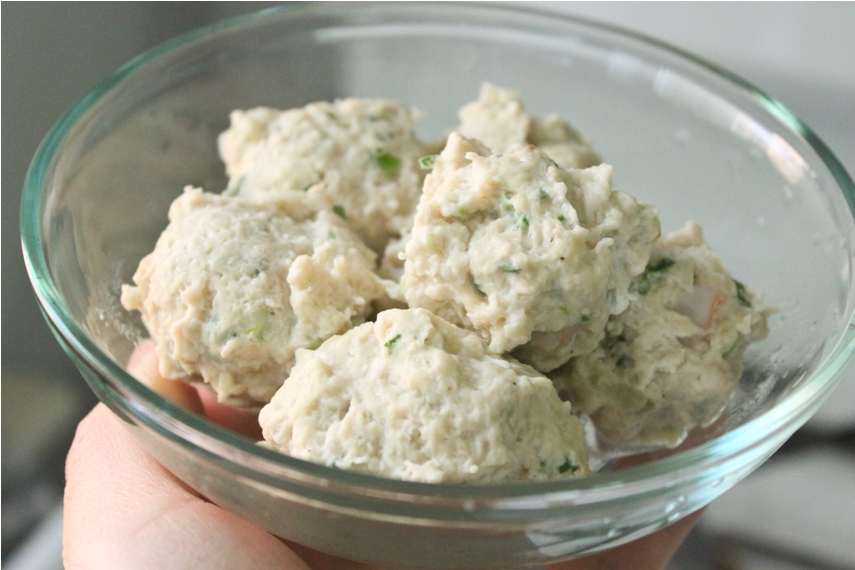 To make the soup, run the meatball water through a fine mesh strainer. Keep the filtered water and bring to boil. Add 2 slices of ginger, cut up cabbage to the soup. Bring to boil again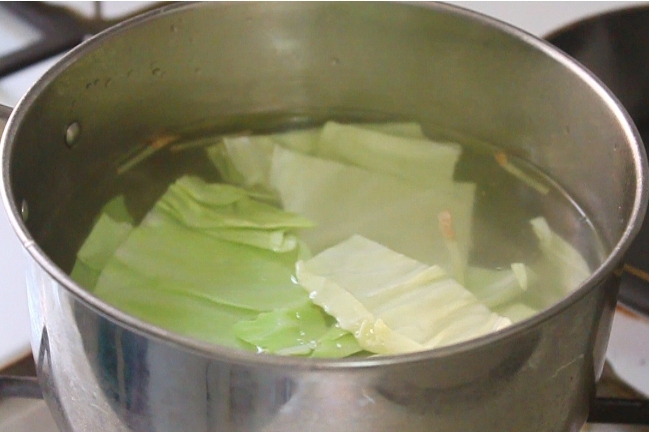 Add the pre-cooked meatballs and boil for another 5 minutes. Add salt and white pepper to taste. Cut open one of the meatballs to make sure it is fully cooked inside. Garnish with chopped scallion and serve the soup hot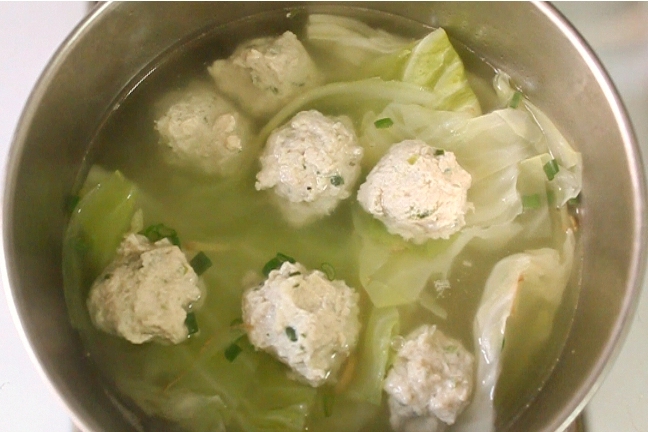 Garnish with chopped scallion and serve the soup hot!!
P.S. If you are still craving for more stuffed "balls" you might also like this popular Stuffed Glutinous Rice Flour Ball (Tang Yuan) dish!
Healthy Shrimp Stuffed Chicken Meatball Soup
Ingredients
3/4 lb fresh small shrimp, peeled and deveined
1lb ground chicken
½ cabbages cut to smaller pieces
5 slices fresh ginger
2 stalks scallion
1 stalk cilantro (operational)
1 egg
1tbsp corn starch
1 tsp sugar
1 tsp sesame oil
Salt
White pepper powder
Additional ginger and scallion for the soup
Instructions
Marinade the shrimp with salt and pepper. If using medium size shrimp, cut the each shrimp to halves. Finely chop 3 slices of ginger, scallion, and cilantro. Set aside
In a large mixing bowl, combine the ground chicken with chopped ginger, chopped scallions, chopped cilantro, egg, and corn starch. Mix using a spoon to incorporate
Add 1 -2 tsp of water to the meat mix, then stir with a spoon in one direction until the water is absorbed. Repeat this process for 3-4 times or until the meat mixture becomes fluffy and paste-like.
Flavor the mixture with salt, white pepper powder, and sesame oil. Stir to mix
Before rolling out the meatball, start to boil a pot of water to pre-cook the meatballs
Spoon 1 tbsp of meat to form a ball. Poke a hole in the ball and stuff a piece of shrimp in. Seal the shrimp with additional meat. Gently drop the meatball to the boiling water. Cook for about 2 minute, or until they float. Take out the meatball and set aside. I normally cook in batches of 6 – 8 each time. Save the water used to boil the meatballs
To make the soup, run the meatball water through a fine mesh strainer. Keep the filtered water and bring to boil.
Add 2 slices of ginger, cut up cabbage to the soup. Bring to boil again.
Add the pre-cooked meatballs and boil for another 5 minutes. Add salt and white pepper to taste. Cut open one of the meatballs to make sure it is fully cooked inside.
Garnish with chopped scallion and serve the soup hot
https://yireservation.com/recipes/shrimp-stuffed-chicken-meatball-soup/
Copyright © Yi Reservation 2010 - 2013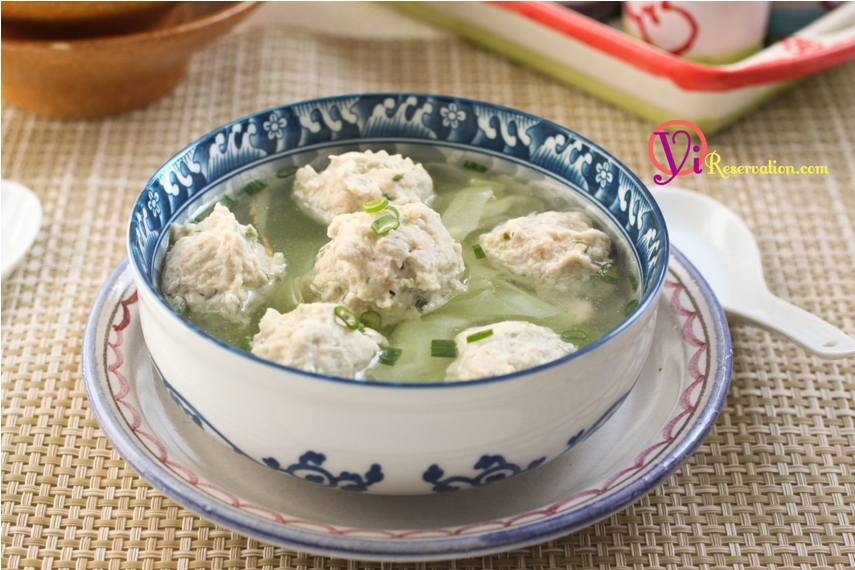 Warning
: Use of undefined constant rand - assumed 'rand' (this will throw an Error in a future version of PHP) in
/home/yirese5/public_html/wp-content/themes/yireservation/single.php
on line
72
Warning
: Parameter 2 to wp_hide_post_Public::query_posts_join() expected to be a reference, value given in
/home/yirese5/public_html/wp-includes/class-wp-hook.php
on line
287