Steamed Piggy Buns
Warning
: Parameter 2 to wp_hide_post_Public::query_posts_join() expected to be a reference, value given in
/home/yirese5/public_html/wp-includes/class-wp-hook.php
on line
287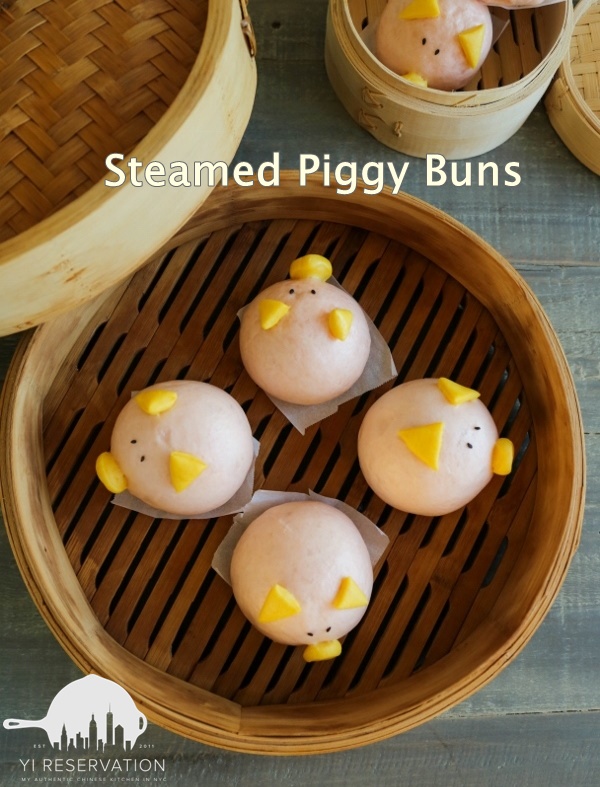 This is Part IV of the Steamed Bun Series. Here are the other posts in this series:
Part I: Mantou (Chinese Steamed Bun) 饅頭
Part II: Chinese Steamed Pork Meat Bun 包子
Part III: Steamed BBQ Pork Bun 叉燒包
Believe or not, these soft and almost too-adorable-to-eat steamed piggy buns are one of the hottest Dim Sum items served up in restaurants here in New York City.
On a recent visit to Golden Unicorn, a popular dim sum restaurant here in NYC that's known for their piggy custard buns among other dishes, after waiting for 30 minutes before being seated, I was told that they temporarily ran out of the piggy buns and the next batch wouldn't come out in a while.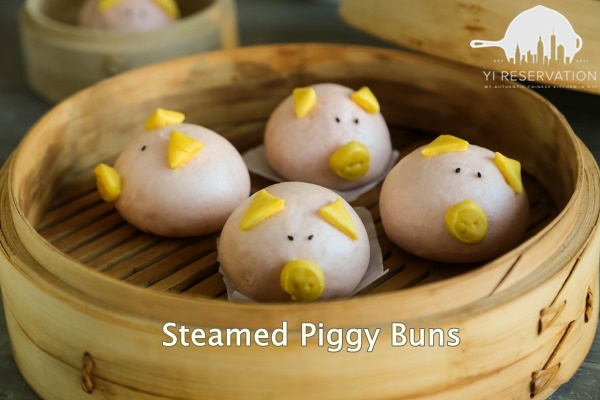 I was disappointed and frustrated and thought to myself that nobody should be denied to enjoy these cute and fluffy buns. So, I decided to take the matter into my own hands and create these buns in my own kitchen. It turns out, these piggy buns aren't super hard to make, especially if you have already made steamed Chinese buns before.
For those who are new to steamed bun, please check out my Chinese steamed bun / mantou recipe. The fundamental is pretty much the same but with the piggy buns, you'll have to be just a little crafty. You'll need to use food dye to create 3 different sets of dough for the faces, noses, and ears and put build each individual piggy using these parts.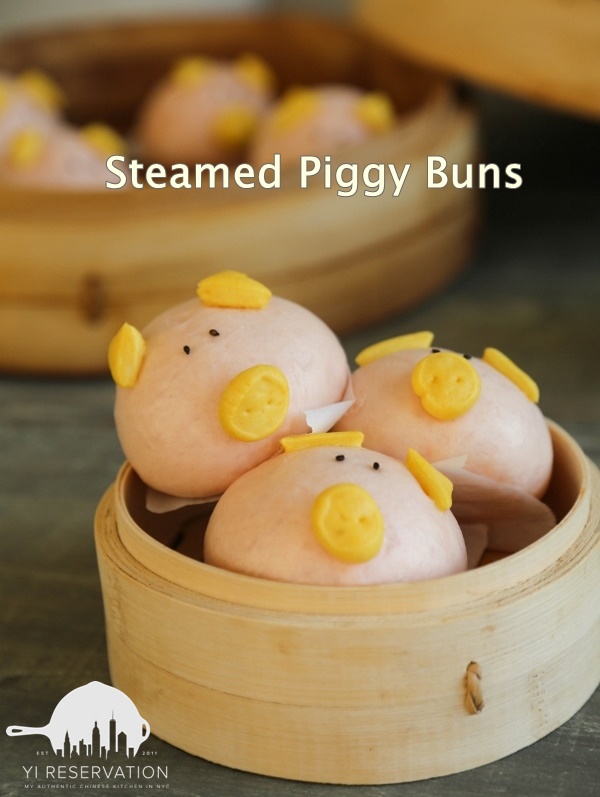 Although this recipe only produces plain piggy buns, you can easily stuff them with sweet fillings such as red bean paste or lotus seed paste or custard or even this savory pork stuffing.
Also, feel free to get creative with the color scheme. I went with pink as the face color as that's Mrs. Yi Reservation's favorite color but I'd love to see what other color combination you guys can come up with 🙂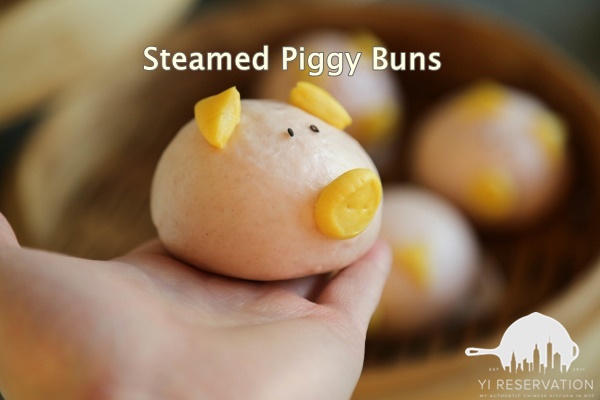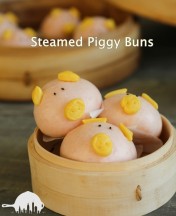 Yield: 12 buns
Prep Time: 3.5 hours
Cook Time: 15 mintues
Total Time: 3h 45min
Make these super cute Steamed Piggy Buns following this step-by-step recipe at
yireservation.com
Ingredients:
Basic Dough
400g All purpose flour
1 tsp instant yeast
200ml milk or water +/- 10ml
½ tsp baking powder
1tbsp cooking oil
90g sugar
2g salt
Decoration
3 drop red food dye
4 drop yellow food dye
black sesame seeds
Directions:
Read this basic steamed bun/mantou recipe before proceeding. To make the basic dough, combine all basic dough ingredients in a stand mixer. Mix and knead until the dough surface becomes smooth. About 10 minutes. If working with instant yeast, first proof the yeast in warm milk, then mix with the rest of the ingredients.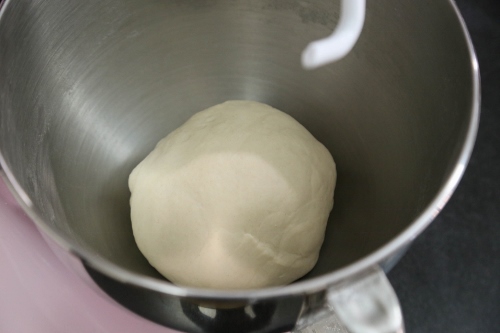 In a workstation, cut out about 60g/2oz of dough and put it back to the mixer. Add yellow food dye and knead until the food dye is evenly and fully incorporated with the dough. Place the yellow dough in a small bowl and cover with plastic wrap. Return the rest of the dough back to the mixer. Add red food dye and knead until the dough turns uniformly pink. Place the red dough in a container and cover with plastic wrap.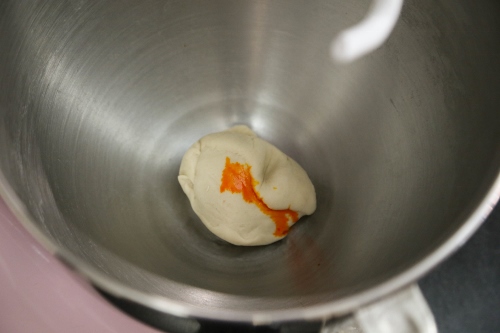 Once the dough doubles in size, about 1 hour depending on the room temperature, place both portions of dough on the workstation and let it deflate.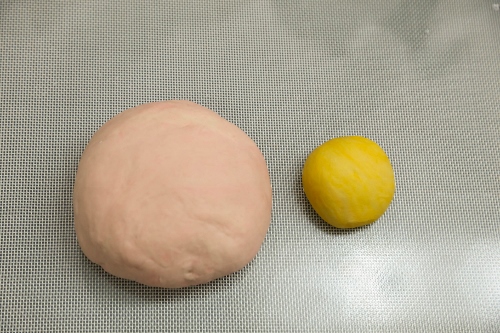 Roll the pink dough into a smooth long log. Cut into 12 portions.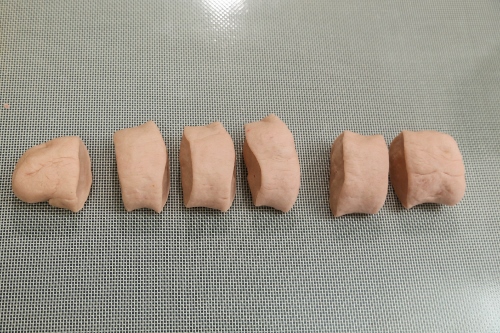 Divide the yellow dough into two portions.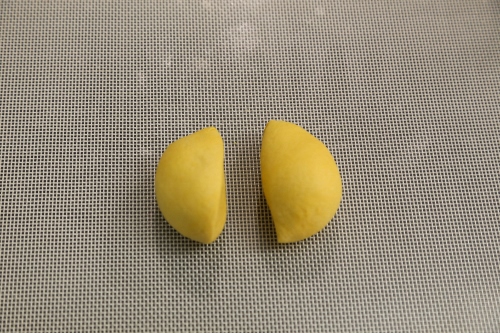 Roll one portion into a long log. Roll the other portion into a flat sheet using a dough roller.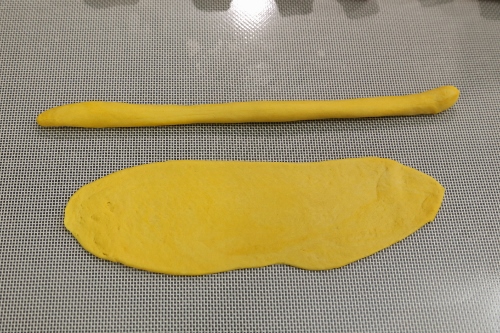 Cut the long log into small portions ¼" in length for the noses. Cut the flat dough into small triangles for the ears.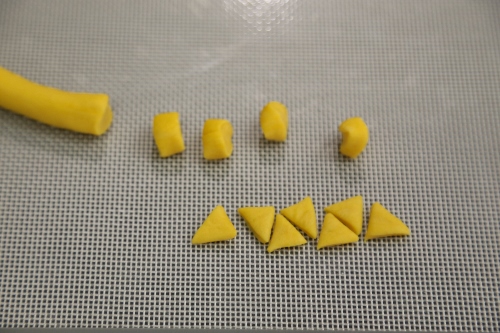 Roll each portion of pink dough into a round ball using your ball. Try to make the surface of the ball as smooth as you can. Lightly brush the ball with some water.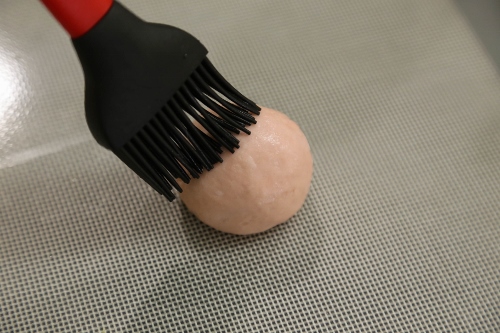 Use a pair of chopsticks or tweezers to carefully place the ears and nose onto each round ball.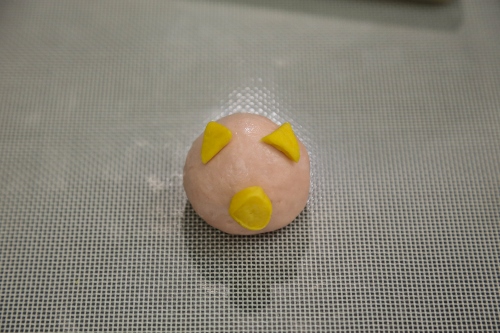 Then gently poke the nose with two toothpicks.Lastly, place two black sesame seeds between the years and nose as the eyes.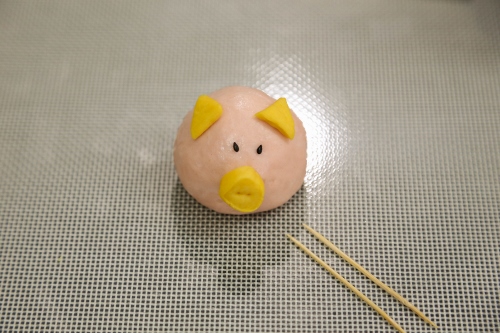 Transfer the piggy dough into a steamer and let them proof in room temperature until almost double in size. About 45-60 minutes. Steam over high heat for 11 minutes. Turn off the heat and keep the lid on for another 2 minutes. Serve these steamed piggy buns hot either plain or dipped in sweetened condensed milk.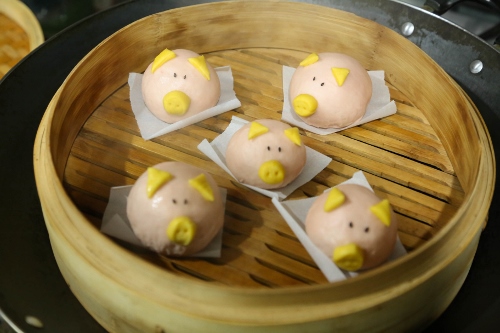 If you get to make these, please don't hesitate to share your pictures with me!!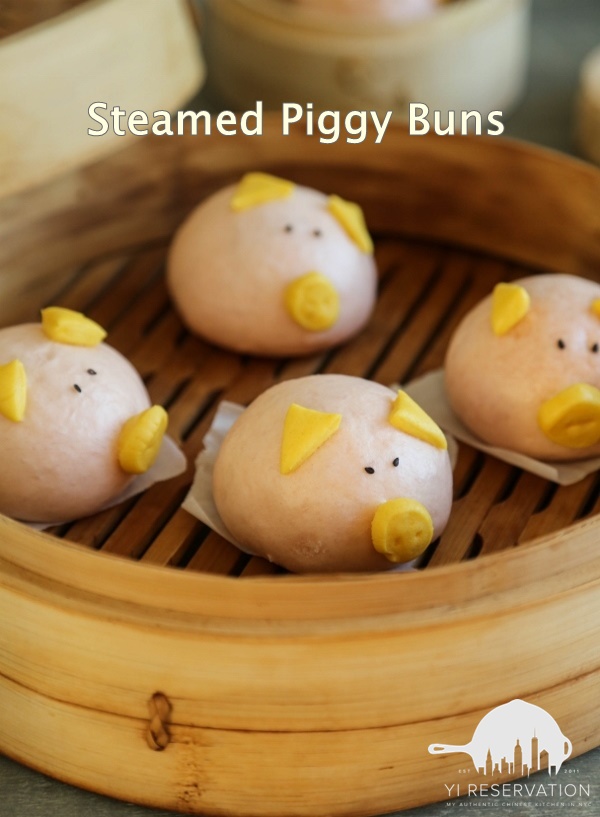 Warning
: Use of undefined constant rand - assumed 'rand' (this will throw an Error in a future version of PHP) in
/home/yirese5/public_html/wp-content/themes/yireservation/single.php
on line
72
Warning
: Parameter 2 to wp_hide_post_Public::query_posts_join() expected to be a reference, value given in
/home/yirese5/public_html/wp-includes/class-wp-hook.php
on line
287