Chinese New Year Special – Traditional Steamed Fish (清蒸魚)
Warning
: Parameter 2 to wp_hide_post_Public::query_posts_join() expected to be a reference, value given in
/home/yirese5/public_html/wp-includes/class-wp-hook.php
on line
287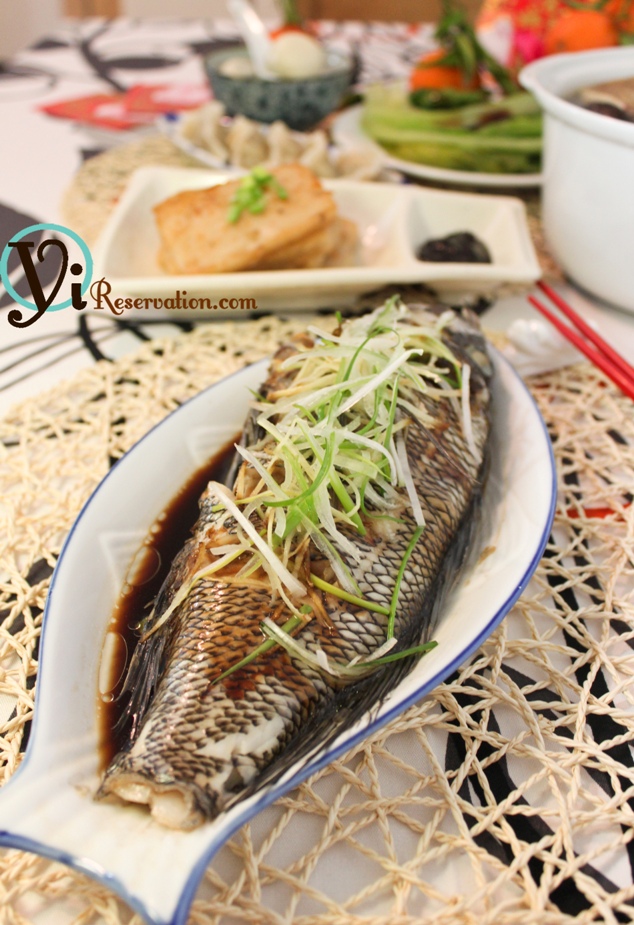 Looking for more Chinese New Year recipes? Check out my FREE Chinese New Year Cookbook.
For every Chinese family around the world, February 3rd 2011 is the most celebrated day of the year as it is the first day of Chinese New Year. Around this time, families in China clean their house and decorate it in red, the color that symbolizes good luck. On Chinese New Year's Eve, there is the feast of the year that everyone's been waiting for. This is the meal comparable Christmas dinner where people will indulge themselves with delicacies and plenty of alcohol. Follows the dinner, many families will gather together and watch the 4-hour-long CCTV New Year's Gala.
If the gala didn't put you to sleep by midnight, congratulations you can now finish the night with some firecrackers…
Being thousands of miles away from China, my celebration of Chinese New Year this time around doesn't follow the tradition at all. The deviation started out with my move just days before the Chinese New Year. The new apartment is messy at best but chaotic in most areas and certainly has zero Chinese New Year decoration. As I am sitting here on one of the unopened boxes writing this post, I still don't have a clue where most of my daily necessities are out of many boxes I have around me.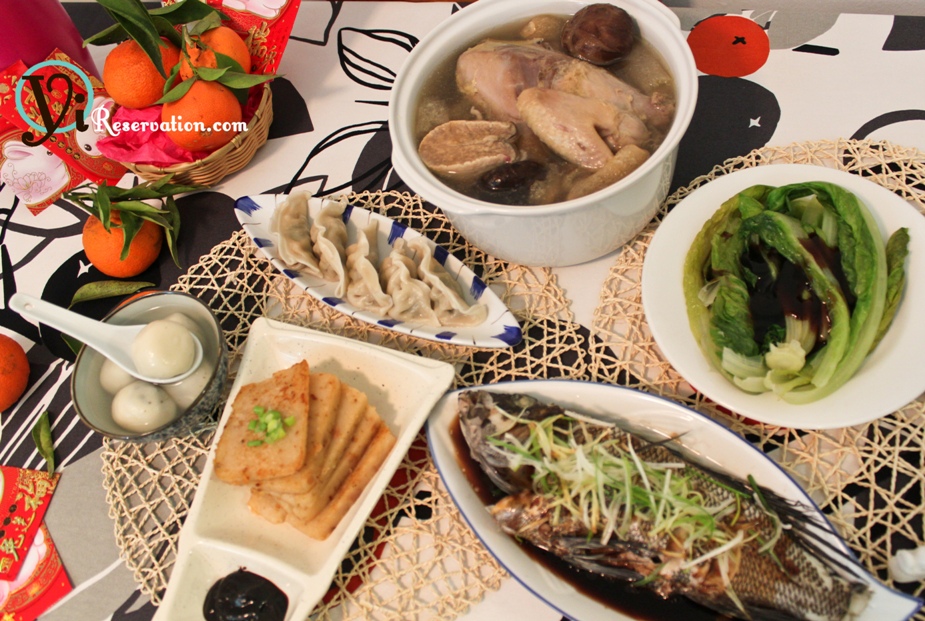 I did do myself a favor though to make this post possible. I unpacked and put away all my kitchen stuff the first thing after I moved in. For me, the Chinese New Year's Eve Dinner is one thing I don't want to miss. For this year, I actually managed to hammer out a few dishes between unpacking and cleaning. They are all relatively simple dishes I make on regular basis.
For appetizer, I made this classic turnip cakes with Alice C's help. This is a traditional Cantonese dish for Chinese New Year. All I can say is that after eating the homemade I have no desire to go back to the packaged turnip cake I used to buy. Check out this original recipe or this healthier radish cake recipe if interested in making it at home.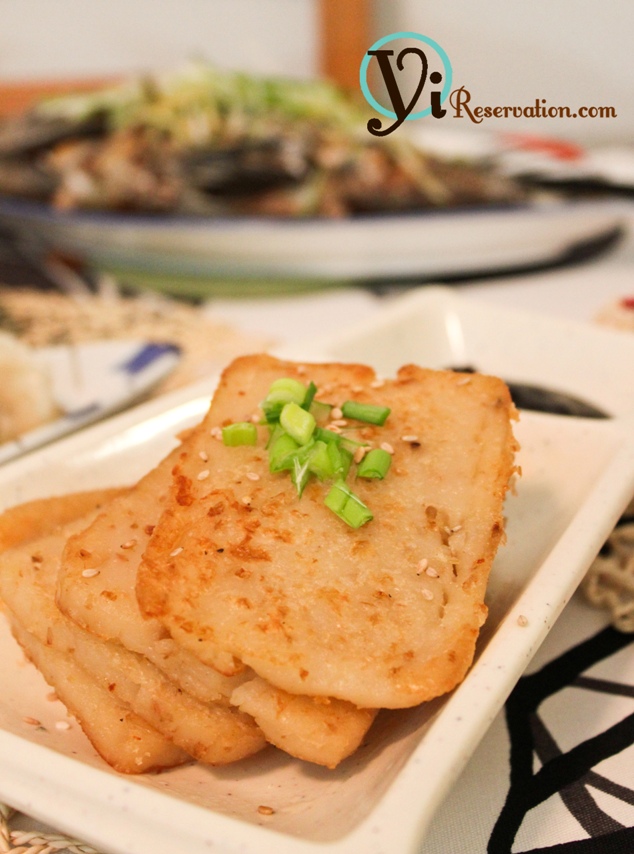 For the soup. I made this abalone chicken soup that I learned from my trip to Hong Kong and Canton. It is perfect for this kind of cold weather in New York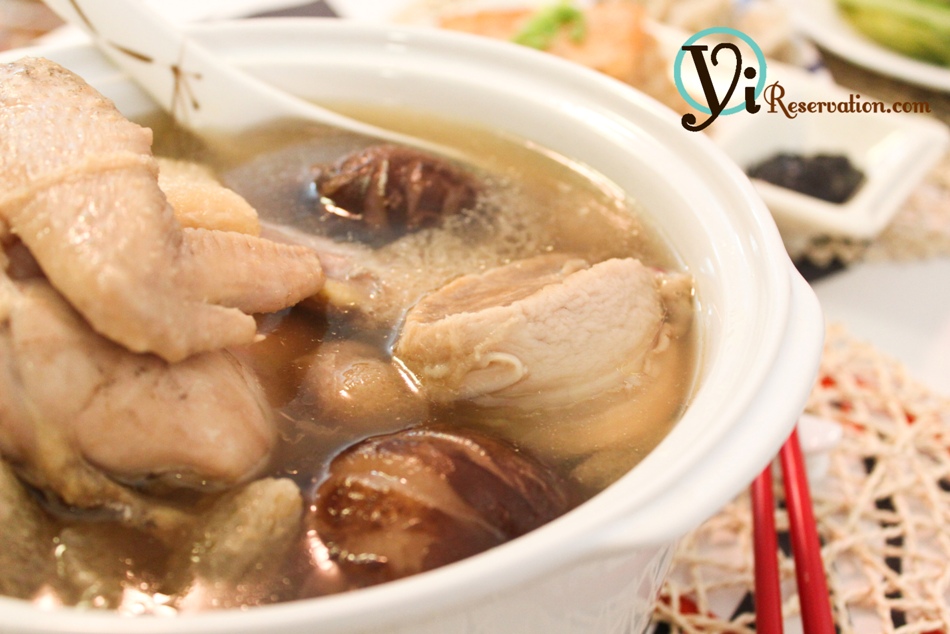 For the entrees I made a traditional steamed fish. This is a must-have dish in any Chinese New Year Dinner. Fish is a symbol of prosperity and surplus. Additional it's just a delicious dish to have. I have included the step-by-step recipe below. If you are scared of whole fish then please stop scrolling down any further.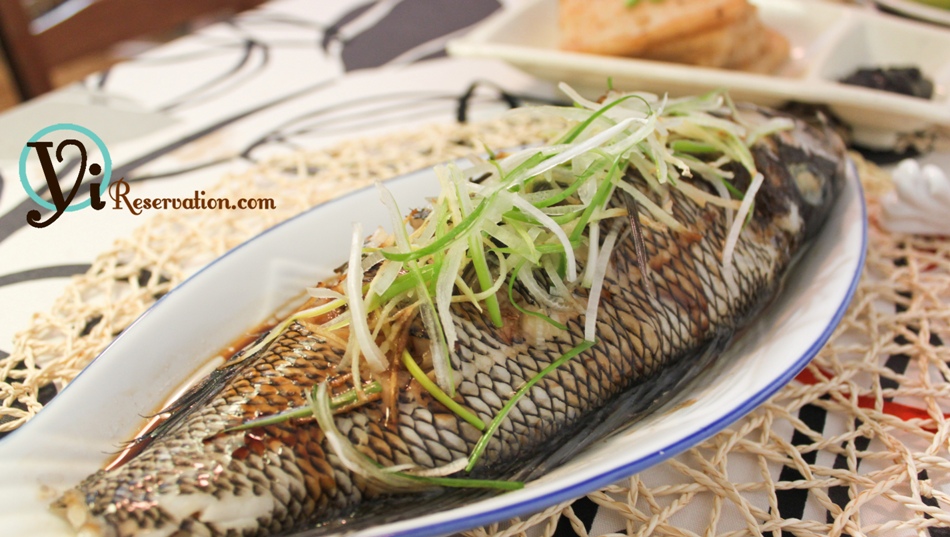 Of course, the dinner cannot complete without a plate of dumplings. Next to the dumplings, I also made a plate of blanched lettuce in oyster sauce.  In Chinese, the sound of lettuce resembles "growing money", or become rich.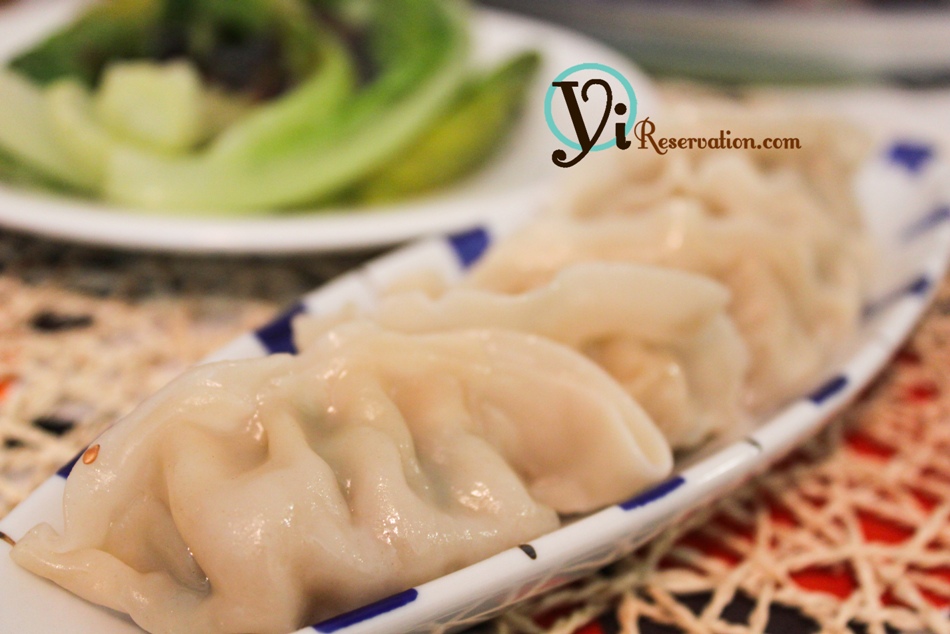 Lastly, I made this sweet rice ball with filling. This is a dish normally served two weeks into the New Year but I just could not wait until then. If you are interested in finding out what's inside of these sweet rice balls and how to make them, please be sure to check back again next week =)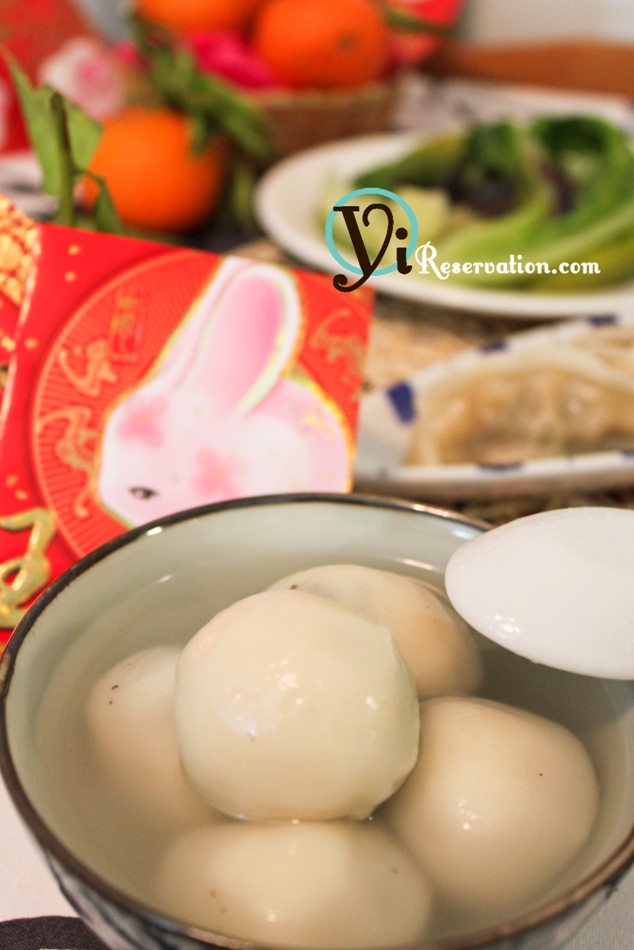 Now on to the steamed fish dish. The recipe calls for sea bass but you are more than welcome to use other kinds of fish as long as it's not too bony.
[stextbox id="info" bgcolor="9fdfd9″]Ingredients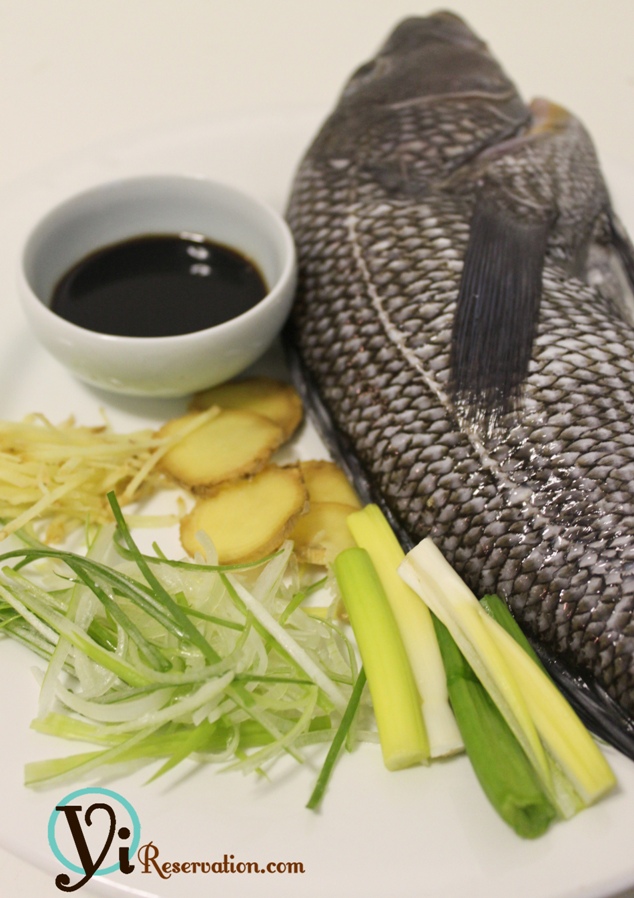 20 oz Fresh sea bass, cleaned and pat dry
2 tbsp Scallion, shredded to tiny strips
1 tbsp Ginger, shredded to tiny strips
2 tbsp Cooking oil
3 tbsp Seafood soy sauce, see more details below
Several pieces of sliced ginger
Several pieces of 2 inch long scallion
½ tsp Salt[/stextbox]
Seafood Soy Sauce
The seafood soy sauce is a compound soy sauce used in seafood cooking. It is available in Chinese supermarkets. It is also simple to make it at home. To make 3 tbsp of this soy sauce, you'll need:
½ tbsp black bean, finely minced
1 tbsp each of dark soy sauce and regular soy sauce
1/3 tbsp oyster sauce
2 tsp sugar
1 tbsp water
1 tsp cooking wine.
Combine all ingredients in a sauce pan, boil in low heat until it is reduced to 3 tbsp. About 4 minutes.
[stextbox id="custom"]Step-by-Step
1. Make 3 cuts on each side of the fish. Rub both inside and outside of the fish with salt.
2. In a plate, place sliced ginger and scallion on the bottom of where fish will be place. This is to create room below the fish for even heat distribution.
3. Place the fish on the plate and steam it in boiling water for 7 to 8 minutes. If you have a bigger fish, be sure to extend the cooking time to have it fully steamed. Also, use high heat for steaming.
[nggallery id=54]
4. Take out the fish as soon as it is done. By now, you should see the eyes of fish are all popped out and the fins should be open. Remove the excess liquid from condensation if there is any.
5. Heat the cooking oil until it gets very hot. Top the fish with seafood soy sauce and shredded ginger and scallion. Pour the hot cooking oil on top. There should be plenty of sizzling.
[nggallery id=55][/stextbox]
Enjoy the steamed fish while it's still hot. And if you are one of the more traditional Chinese, you'll purposely leave some of the fish for the symbol of "surplus" or prosperity.
To conclude this post I'd like to wish you all a healthy and prosperous year of the Rabbit. Now tell me what you had for Chinese New Year's Eve Dinner?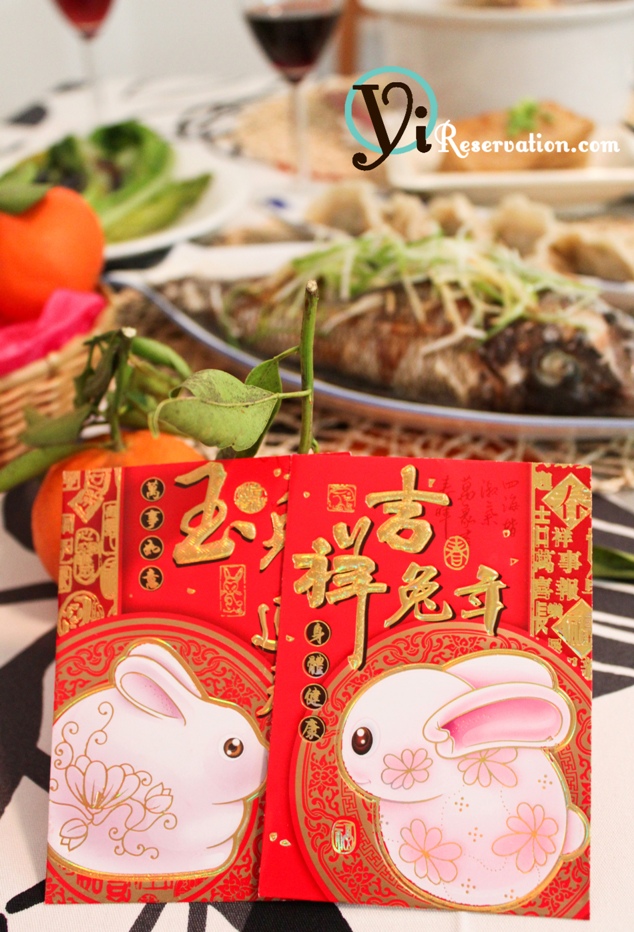 Warning
: Use of undefined constant rand - assumed 'rand' (this will throw an Error in a future version of PHP) in
/home/yirese5/public_html/wp-content/themes/yireservation/single.php
on line
72
Warning
: Parameter 2 to wp_hide_post_Public::query_posts_join() expected to be a reference, value given in
/home/yirese5/public_html/wp-includes/class-wp-hook.php
on line
287