Qiuck Sichuan Spicy Hot Pot 簡易麻辣火鍋
Warning
: Parameter 2 to wp_hide_post_Public::query_posts_join() expected to be a reference, value given in
/home/yirese5/public_html/wp-includes/class-wp-hook.php
on line
287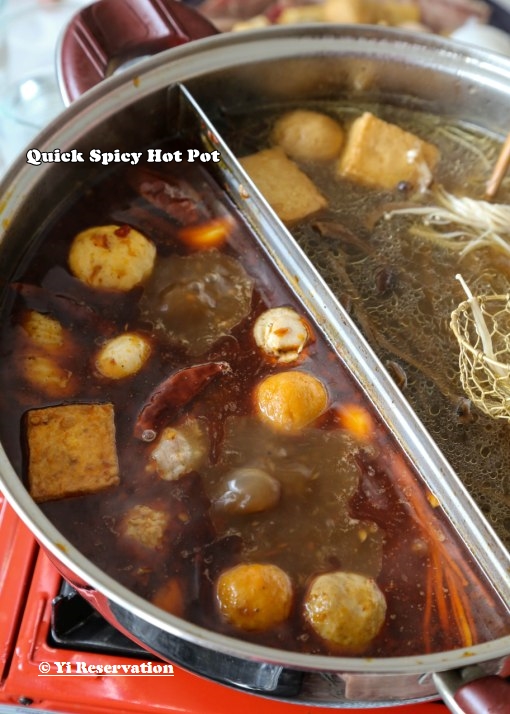 This is Part IV of the Hot Pot Series. Here are the other posts in this series:
Part I – Introduction to Chinese Hot Pot
Part II – Sichuan Spicy Hot Pot
Part III – Clear Soup Hot Pot
This is one of the coldest winters I can remember since I moved to New York. As snow and low temperature continues through the weekend and much of next week, I have been combating the cold weather with some sizzling spicy hot pot (aka Chinese fondue)!
If you are have never had this popular Chinese communal style dish before, stop everything you are doing now and check out my posts from the hot pot series to understand how it works. It's a real big deal in Chinese dining culture!
Hot pot is prepared differently from region to region. Being from Chongqing and Sichuan (Szechuan) area, my choice of hot pot is obviously the Sichuan fiery broth!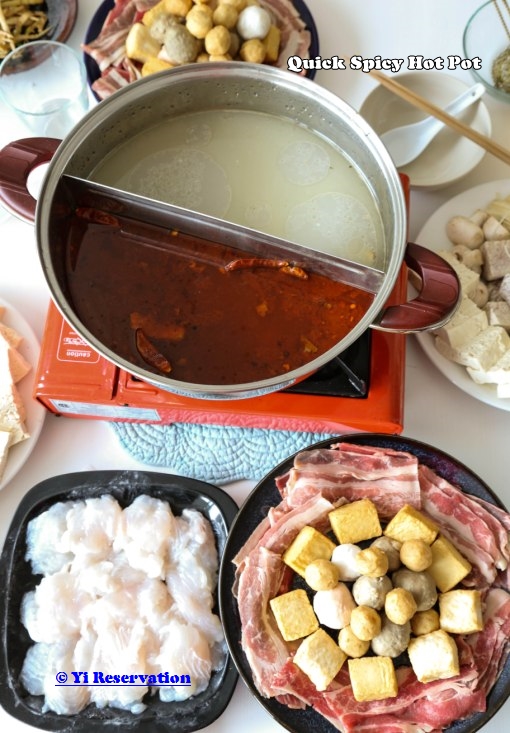 For the readers who have attempted my Sichuan spicy hot pot recipe, you know making the broth from scratch is not for the faint of heart. The truth is, people in China don't generally cook spicy hot pot from scratch. They either eat out in hot pot restaurants (which are everywhere) or make the broth using pre-package seasonings which make cooking hot pot hassle-free!
As I mentioned in my previous Chinese bacon post, the generous owner of Sino-American Quality Food (SAQF) has sent me a box full of different sample seasoning produced by ZHOU JUN JI (周君记), a well-known spice and condiment manufacturer from my hometown Chongqing, China.
Today, I will be sharing how the ZHOU JUN JI hot pot seasoning can help you enjoy Sichuan spicy hot pot with minimum amount of work.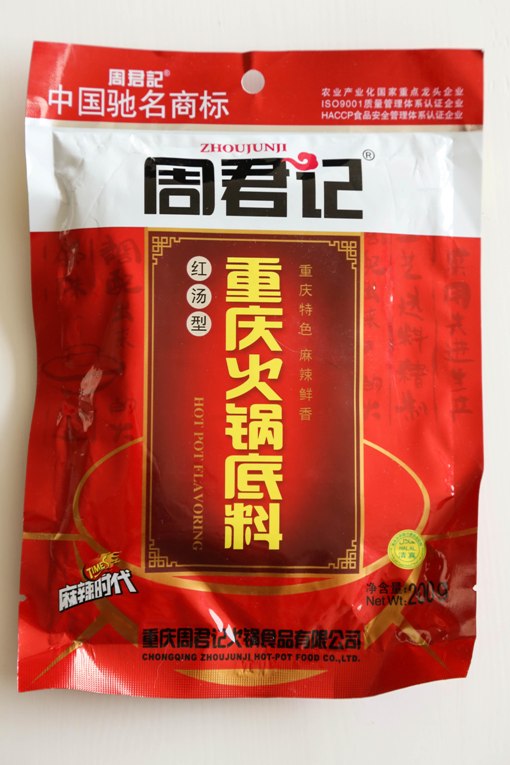 The ZHOU JUN JI hot pot seasoning is packed in a package with both Chinese and English descriptions. Once you open the package, there is another thick vacuum-sealed bag keeping the actual seasoning tightly sealed.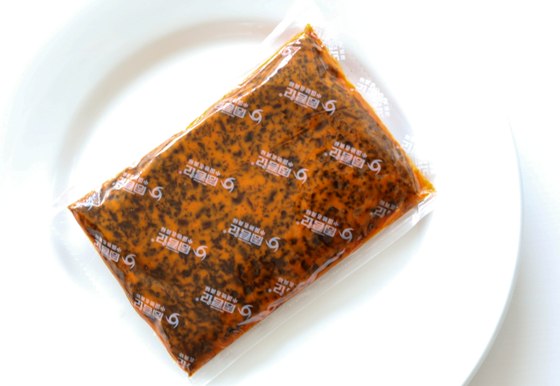 Turn to the back of the package, you'll find the English instructions on how to use this product. The instruction does sound a little non-native but basically all you have to do is to boil this seasoning with water and  you are ready to serve. I don't' think cooking hot pot can get any easier than this!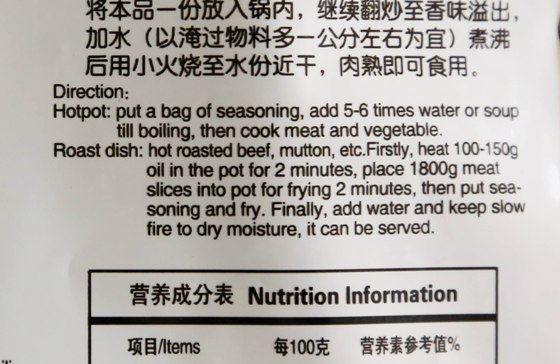 Before we move onto the recipe, I would like to share my personal thoughts on the Hot Pot seasoning.
Disclaimer: The review below represents the opinion of Yi Reservation based on personal use and results. I do not receive any monetary compensation other than the free sample.
First of all, I can't stress on how much easier it is to prepare hot pot with the seasoning. The traditional recipes require a plethora of spices which a lot of us just don't have readily available. Not to mention that it takes about 30 – 45 minutes to turn all the spices and ingredients into something similar to the packaged seasoning.
Once the broth starts to boil, I immediately smell the great aromas from the use of spice mix and fresh Sichuan peppercorn (hua jiao). The smell might be strong and penetrating to first timers but it certainly brings back all my fond memories in Chongqing. I am already sold even before tasting the broth.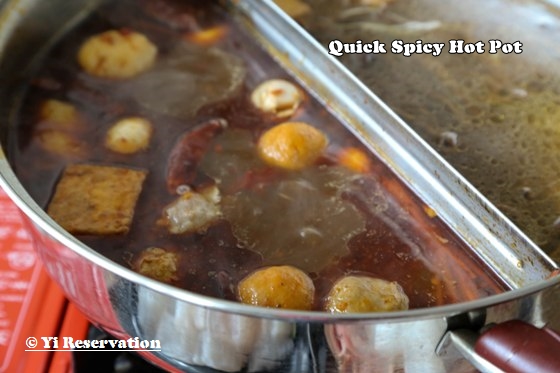 Let's talk about the taste. I absolute love the flavorful of ZHOU JUN JI Hot Pot seasoning. And I am not saying this because I was given the free sample!
The broth is more than just being spicy. The use of spices creates some very complex flavors that really enhance the food you cook in. The use of fresh Sichuan peppercorn instead of dried Sichaun peppercorn is a great touch as the fresh variety has a much stronger taste. Additionally, there is a hint of fresh chili flavor which brings a refreshing taste to this fiery broth.
In conclusion, I am really impressed by ZHOU JUN JI Hot Pot seasoning. Not only it's easy to use but it really tastes great. If you love spicy Sichuan hot pot but are intimidated by the effort it takes to cook from scratch, you should definitely check out this seasoning. Visit Sino-American Quality Food (SAQF) for more details on this product.
Now, let me show you how to get the most flavor out of this seasoning. Although you can just add the seasoning to boiling water, I strongly suggest you take the extra steps in this recipe to maximize the potential of this wonderful product. The little extra work is well worth it!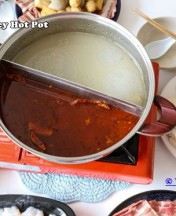 Qiuck Sichuan Spicy Hot Pot 簡易麻辣火鍋
Yield: 2-4 servings
Prep Time: 5
Cook Time: 10
Total Time: 15
Make this Qick Sichuan Spicy Hot Pot following this step-by-step recipe at www.yireservation.com.
Ingredients:
1 pkg Hot Pot seasoning
beef stock
2 slice ginger (optional)
3 clove garlic (optional)
Additional dry chili and Sichuan peppercorn to your taste
Directions:
For readers who live in the northeast of the United States. How are you coping with this cold weather?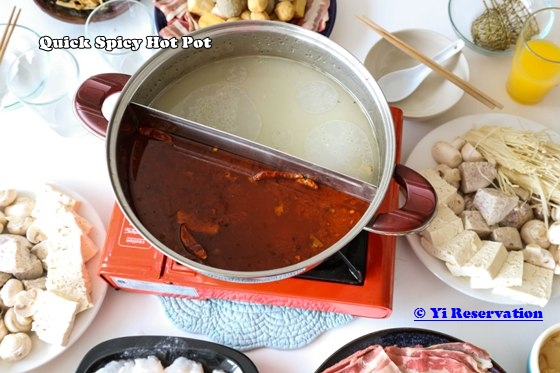 Warning
: Use of undefined constant rand - assumed 'rand' (this will throw an Error in a future version of PHP) in
/home/yirese5/public_html/wp-content/themes/yireservation/single.php
on line
72
Warning
: Parameter 2 to wp_hide_post_Public::query_posts_join() expected to be a reference, value given in
/home/yirese5/public_html/wp-includes/class-wp-hook.php
on line
287